When enjoying the sublime joys of swimming pools, remember to ensure the safety of your furry friends because they accompany you both in happiness and sorrow. So, this blog post emphasizes some safety measures that can maintain harmony between your pets and the pool.
Before you explore the specifics of this post, we would love to introduce our brand Designer Pool Covers. We are based in the four provinces of South Africa and provide pool maintenance services. In addition, we also offer Swimming Pool Covers of various types and styles.
Reasons for Implementing Pets and Pool Safety Measures
There are many reasons why to implement safety measures around your swimming pool. Here are some of them:
Preventing Pool Accidents
When your pets are left unsupervised around the pool, they can slip or fall through the pool deck, causing sprains and strains. In the meantime, their skin contacts the harmful pool water chemicals, they get exhausted due to the warm water, and they can get entangled in the pool equipment. So, to prevent all these situations, it is necessary to install safety measures and keep an eye on the pets near the swimming pool area.
Following Rules & Regulations
In addition to preventing injuries & accidents, it is essential to install safety measures around the pool area because of legal municipality requirements. Some guidelines a pool owner must adhere to for pet safety involve – fencing, alarms, and pool safety covers.
As a pet owner, Which guidelines should you follow around swimming pools?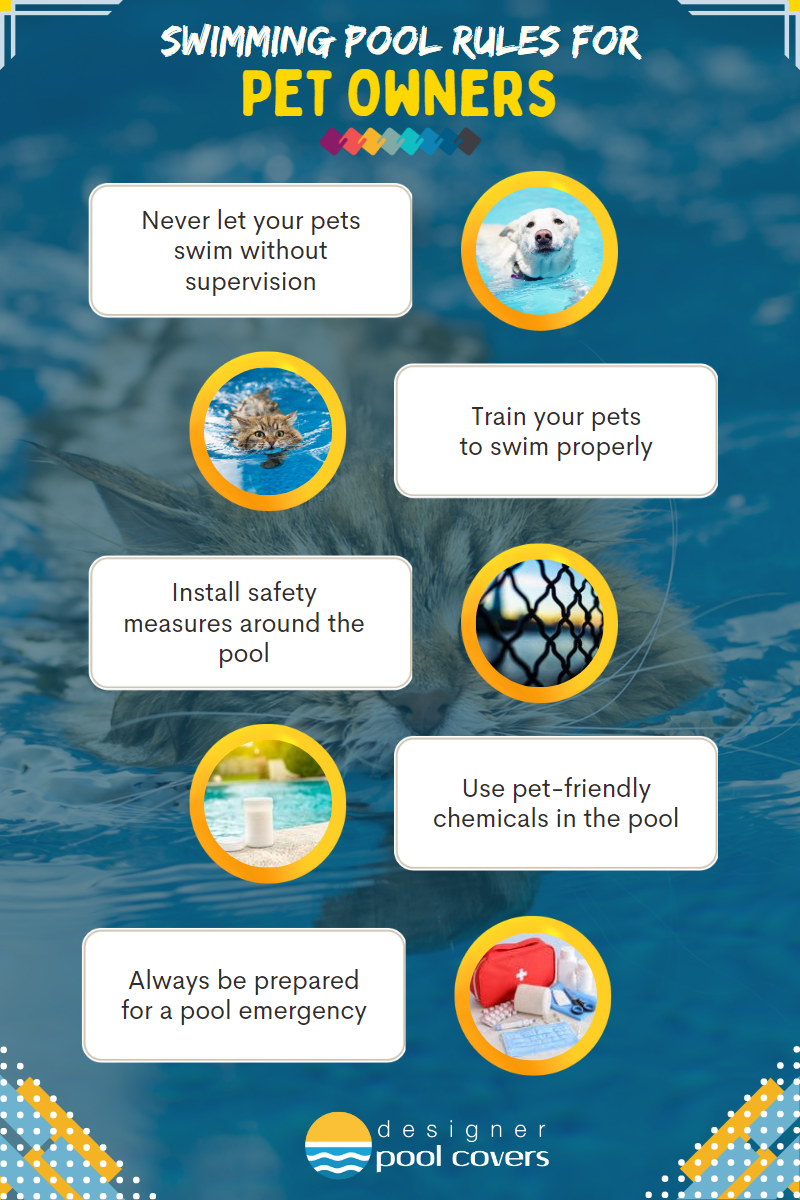 Swimming Pool Safety Products for Pets
As a responsible pet owner, you should consider investing in products that assure a safe & delightful swimming experience for your furry friends. Here are some of them:
Pool Fences
Pool Fences are physical structures that prevent your pets from going around the pool area. These structures can prevent pool injuries and drowning accidents. In addition, these fences have different types.
Among all the options, those pool fences that are best for pet protection are at least four feet tall, have a self-latching & closing gate, are made of durable material, can get customized, and withstand harsh environmental factors. Some examples include Chain-link, Mesh, Vinyl, Aluminum, and Glass Fences.
Safety Covers
Besides the physical barriers, you should consider investing in a high-quality pet safety pool cover. This cover can protect your pets from drowning and falling into the pool. It can carry your pet's weight and has drainage holes to prevent water accumulation above the cover surface.
However, before you buy a Pet & Child cover, consider its strength, durability, size, ease of use, attachment system, and composition. In addition, you can also check out the Pet and Child Safety Cover at Designer Pool Covers. It has all these attributes and is one of our best products.
Floatation Devices
Floatation devices are a great option, especially for pets who are beginners at swimming. Some of the popular devices in this category include the following:
Life Jackets – Keep your pets secure from drowning and available in many sizes and styles.
Pool Noodles – These are foam tubes and serve as inexpensive pet floatation devices.
Buoyancy Mats – These mats get made of foam and can float on the water's surface. They provide extra protection for your pets inside the pool.
Toys – These are available in a great variety and encourage your pets to swim in a relaxed ambiance.
Before investing in these devices, consider your pet's size, weight, and swimming ability. In addition, make sure that your pet feels comfortable with these structures.
Steps & Ramps
Steps & Ramps can be a great addition to your swimming pool area if you have a furry friend. These steps & ramps make it easy for the pets to enter and leave a swimming pool. In addition, these structures help in preventing pool accidents and injuries.
When you consider investing in these products, always select the steps & ramps that are appropriate for your pet's size & weight. In addition, these structures should be sturdy, durable, and have non-slip surfaces.
Safety Alarms
These alarm systems can be an effective tool in preventing severe pool injuries and mishaps. There are many types of pool alarms, but they work on the basic idea of detecting a motion. You can set these alarms inside the pool and on the gates of pool fences. In addition, wearable alarms are also available that can be attached to your pet's collar or harness.
Investing in pool alarms can help you locate and treat your pet quickly. However, before investing in these alarms, read their brand reviews, consider their cost, and select the option having multiple characteristics.
What should you do in case of a Pet Pool Emergency?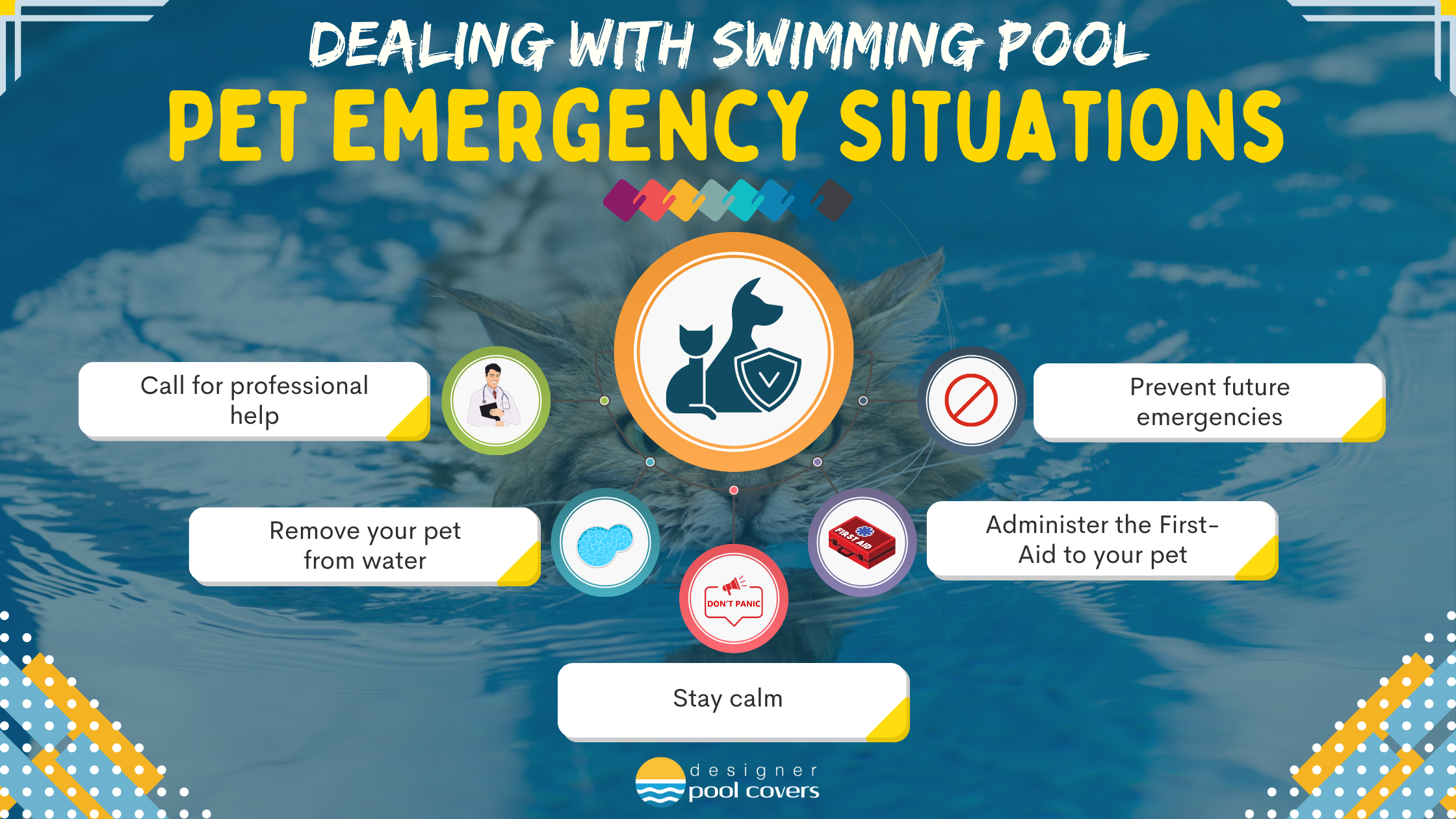 FAQs
How do I make my pool pet friendly?
Following are some tips to make your pool pet-friendly:
Install barriers around the pool
Use pet-friendly pool entrance & exit structures
Install a pool alarm
Use pet life jackets and floatation products
Are pool covers safe for cats?
Pool covers have many types, but every pool cover does not provide pet safety. However, you can invest in Pet and Child Safety Covers specifically built for pet pool safety. These covers let the water pass through them but prevent your pets from drowning in the pool.
Can dogs walk on the pool safety cover?
Dogs should not walk over the pool cover surface as it can cause injuries and damage to the pool cover.
How do I make my pool pet safe?
You can make your pool pet-safe by investing in pet safety products and supervising them around the swimming pool.
How Can I Ensure the Safety of My Pets Around the Swimming Pool?
Keeping your pets safe around the swimming pool is crucial. Ensure swimming pool safety precautions in place, such as installing a secure fence and a sturdy pool cover. Supervise your pets around the pool area, teaching them how to exit the pool safely with designated ramps or steps. Provide plenty of fresh water for them to stay hydrated, and never leave them unattended near the pool.
How Can Pool Covers Ensure Safety for Pets?
Pool cover safety importance cannot be stressed enough when it comes to protecting our furry friends. Installing pool covers is a critical step to ensure the safety of pets around swimming pools. These covers provide a physical barrier, preventing curious pets from accidental drowning. By investing in pool covers, pet owners can enjoy peace of mind and keep their beloved pets safe from potential water hazards.
How Can I Keep My Pets Safe Around the Swimming Pool?
When it comes to ensuring your pet's safety around the swimming pool, it's important to follow a swimming pool maintenance guide. Installing a secure fence around the pool area will keep your pets away from potential dangers. Additionally, teaching your pets how to swim and providing them with life jackets can offer them added protection. Regularly checking and cleaning the pool's water will also contribute to a safer environment for your furry friends.
To Conclude
In summary, it is vital ensuring pet safety around swimming pools for their happiness & well-being. By being precautious about things like training them for swimming, supervising them around the pool area, and installing appropriate safety measures, you can prevent pool accidents and ensure a delightful swimming experience for them.
In addition to the general safety measures, you can invest in some specific products to maximize pet pool safety. These products include Pet & Child Safety Pool Covers, Pool Alarms, and Life jackets. So, by incorporating these factors, you can enjoy refreshing & delightful pool dips with your furry companions.